Tag Archives:
chorlton
New(ish) Year, More New Stuff!
New!

Community Garden
We've had our eye on that mysterious gated-off space on Manchester Road for quite a while now.  You know the one – between the Sedge Lynn and the library. This spring, we'll be unlocking the gates to create a community garden that's perfect for reading, chatting and smelling the flowers.
The garden is just part of the work we're doing with the Council and other partners to smarten up Manchester Road. The Christmas tree has made way for thousands of spring flowers and there'll be new Veloplanters – where bike storage and bedding plants meet – from Velotrove. More safe places for folks to lock their bikes while they're shopping means they'll spend more time and money in Chorlton. It's all connected.
We need a few volunteers to help with digging and planting, so if your heart is willing and/or your fingers are even a little bit green, please get in touch and help us make Chorlton lovelier.
New!

Pub and Shop Watch
By working together, we traders can share intelligence about suspicious activity and improve security for all our members. The new Pub and Shop Watch scheme costs nothing and we know it's working in other places: if you're a member and you're interested in being part of it, contact us to find out more.
New!

Chorlton on the Map
Residents – and visitors – sometimes need a reminder about how much is on offer in Chorlton, and how easy it is to find great local products and services.  The Chorlton Map will list local businesses, shops and other independents, so you'll never need to go anywhere else. Didsbury Traders have just finished their second, greatly expanded, map and it's been a real success story. It's definitely time that Chorlton had one too. Watch this space…
New!

TAG! cards
The 2015 TAG! Pass It On cards are on sale widely now, offering exclusive discounts on local shopping – from artichokes to acupuncture, dinners to dry cleaning. Cards are valid until December and cost just £5, so they pay for themselves in no time.
More than fifty local businesses are part of the TAG! community loyalty scheme. If you'd like to join them and reward people who keep their money local, have a look at the TAG! website for ideas, inspiration and bit of promotional know-how. And if you want to buy a card for yourself (every home should have one), look for the logo in and around Chorlton.
December: winners all round
It was a great start to December for the Traders, with Small Business Saturday and our annual Christmas Lights Switch On party on December 6.  The streets of Chorlton felt just a little bit safer that day too, when our home-grown crime-cracking superhero Dangermouse made a guest appearance to push the big button – even if he did use a scary-looking detonator to do it! Thanks to everyone who made the day so special. (And for helping us raise over £200 for Mad Dogs Homeless)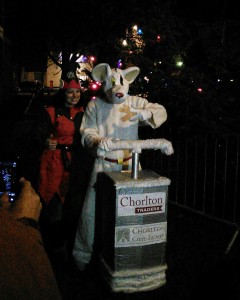 Our Christmas Raffle raised £1,135, which goes towards lighting up Chorlton at Christmas.  Big thanks are due to everyone who sold tickets, bought tickets or donated such fantastic prizes.  We'll do it all again next year!
Here are the lucky winners.
Chorlton Print by Anna Violet – Matthew Tomlinson
Silver piece from Wilbrahams – Omar Munir
Chain Saw Owl – Saj
£100 Chorlton Traders Vouchers – Rhona Gregory
£50 Chorlton Traders Vouchers – Colin Broadbent
A3 canvas photoshoot Andrew Wood Photography – Ann Wilson
A3 print B&B at Abbey Lodge – Carole (Chorlton Art Market)
Life/ Business Coaching sessions – David Radcliffe
Meal for Two at Croma – Emma Brundretts
box of 12 cup cakes from J&D Cupcake Co – Virginia
Unicorn Christmas Hamper – June Dake
Lloyds Meal for 2 – Mrs Buckley
Nip & Tipple meal for 2 with wine – Allison Cooper
Patchwork Papillion quilt – Cher Reid
Direct Advertising& Media Pi Voucher – Michaela Marc
Maine Rd Tickets & refreshments – Chris Heg
£25 voucher Post Box Café – Emma Topp
£20 Voucher Horse & Jockey – Alice Deville
Simon Dunn Chocolate Hamper – Dave Barter
Lushbrownies Voucher – Cath Rew
Set of Chorlton mugs & coasters – Lyn from Elliotts
Make It Shop crafty prize – Ellen Cotogni
Royal Exchange Theatre tickets – Tilly Kelly
Dangermouse Cutout from Crafts By Sian – Claire Murray
Here's to a brilliant 2015 – not only for our members, but for everyone who lives, works and loves in Chorlton.
Linsey Parkinson
www.chinupduck.com