Category Archives:
vouchers
Chorlton Traders News – November-December
A very Chorlton Christmas
Christmas shopping… traffic tailbacks, stress, queues of bad-tempered strangers and indifferent, exhausted shop assistants. Er… nope, not here!
Chorlton's home of the quirky invidivual – and the quirky, invididual gift – with artisan makers and bakers, creative artists and craftspeople. And this is arguably the foodiest part of town too – a great place to come for high quality produce, whether that's free-range meat, organic veg, gorgeous continental imports, or decadent cakes, chocolates and other treats. Can't choose? We thought of that….
Chorlton Gift Vouchers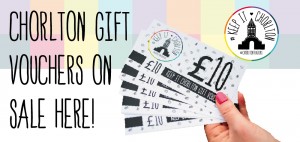 Show your love for this town of ours with the perfect gift and keep Chorlton money where it belongs: we all profit when we've a lively local economy. Available in £10 denominations,the vouchers can be spent with all businesses on the Chorlton Map right up until 31 December 2017. Get yours from the Celebration Party Shop; Epicerie Ludo, McQueen Independent,Love Lucy Boutique, Head over Heels,the Make It Shop, Unicorn or Elliots. Or you can buy online here.
Getting carried away
We're down to the last of our limited edition So Chorlton cotton bags. At just £2.99, they're a bargain handy foldaway. Every penny raised has, and will, go to maintaining Chorlton's flowers – the community garden by the library, beds by the Precinct, planters, herbs, boxes and bike racks. Help Chorlton grow – buy yours from Chorlton Art Market Hub, Elliotts, Chorlton Bookshop, Epicerie Ludo or online – but be quick!
Tag! cards are back
Small Business Saturday (3 December) sees the launch of the 2017 TAG! Cards – the little card that offers big local deals and discounts. For just £5, there's a year's worth of savings to be had – if you shop local, that is. Pick yours up wherever you see the logo or visit tagpassiton.com
Shop windows
If you're a trader with premises in Chorlton, grab your glitter, sprinkle a bit of sparkle in your windows and enter the Civic Society's Christmas shop window competition. Judging takes place in the week commencing 5 December. And if your favourite shop, bar or cafe isn't entering into the festive spirit with a wonderful window, have a word. Let's feel festive.
September update
We've had a bit of time off – but not much! Before the summer sun has quite finished cracking the flags, we're already turning our thoughts to the autumn and winter ahead. Spare a thought for those in need, dig deep to help light up the night and – most of all, keep it Chorlton.
Mary Paul (1932-2016)
Chorlton and Beech Road Traders are enormously sad to have lost the wonderful Mary Paul, who died suddenly in late July.
Mary's 'day job' was the family business, Magic Balloons, but she was also Chair of Beech Road Traders and a tireless community campaigner, with boundless energy and a redoutable spirit. She made Chorlton a better place, connecting people and getting good things done.
Jenny Slee, from the Friends of Beech Road Park: "If anything good happened in Chorlton, you could safely assume Mary had been involved: from festivals to parades, Christmas switch-ons, fundraisers and more. She was an inspiration and will be very much missed"
Councillor John Hacking: "I, along with my Chorlton councillor colleagues, will greatly miss Mary's help, generosity, kindness and support. We will also miss her determination, doggedness and campaigning energy."
In October, a white hawthorn and a pink crab apple tree will be planted in Beech Road Park and dedicated to Mary's memory. A very fitting tribute in a place that she loved. Everyone is welcome to come along.
Follow@chorltontraders for updates.
Keep it Chorlton
Remember that you can still buy and spend Chorlton Gift Vouchers – they're a great way to keep money in the local economy. Give them as gifts to friends, family, even local charities. They're valid until December 2017. Spend them with all our members listed on the Chorlton Map and buy them at:
Celebration, Barlow Moor Road
Elliotts, Chorlton Precinct
Epicerie Ludo, Beech Road
Head Over Heels, Albany Trading Estate
Love Lucy Boutique, Beech Road
McQueen Independent, Beech Road
The Make It Shop, Wilbraham Road
Unicorn Grocery, Albany Road
More information – and buy online at www.chorltonmap.co.uk .
Bring Your Pants!
Reach out to the Community is a local initiative, which offers support for local people struggling with the most basic of needs: food and shelter. Our members, Stephanie and Becky from Elliotts Fruit & Veg, began the project in the summer. Theirs is a very practical approach; working with a number of agencies, who refer those in need of help. This all about making a difference in Chorlton: donations help local rough sleepers and families in food poverty. Can you help?
The project needs:
Men's underpants, socks and jogging bottoms. Second-hand are fine, but clean and in good condition, please;
Toiletries, including sanitary towels and tampons;
Food: tins, rice, dried pasta and other non-perishable items
Drop items off at Elliotts in the Precinct, where you can also donate cash or buy second-hand books in aid of the project.
Christmas is coming…
We're not going to start flogging baubles just yet, but we are already looking ahead to the festive season. Civic subsidy for Christmas lights is likely to be greatly reduced, given other pressures, so we're fundraising to reduce our dependence on it, both this year and in the future. We're working on our plans as we speak and will all be doing our bit – you can too. If you see raffles or collecting tins in local shops, please do buy a ticket or spare a bit of change. We all need a bit of sparkle, especially at Christmas.
It's beginning to look a lot like …
We know it's still only November, but here at Chorlton Traders, we've been thinking about Christmas for a long time. It's our favourite time of year – everywhere's lit up and everyone's in a good mood (if they're not too stressed and overwhelmed by it all). Christmas takes a lot of preparation and planning, which is usually done by our members working voluntarily. We'd like to thank them for all they do to help Chorlton be a nicer place for us all.
Talking of which….