Chorlton Traders News – November-December
A very Chorlton Christmas
Christmas shopping… traffic tailbacks, stress, queues of bad-tempered strangers and indifferent, exhausted shop assistants. Er… nope, not here!
Chorlton's home of the quirky invidivual – and the quirky, invididual gift – with artisan makers and bakers, creative artists and craftspeople. And this is arguably the foodiest part of town too – a great place to come for high quality produce, whether that's free-range meat, organic veg, gorgeous continental imports, or decadent cakes, chocolates and other treats. Can't choose? We thought of that….
Chorlton Gift Vouchers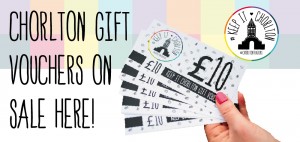 Show your love for this town of ours with the perfect gift and keep Chorlton money where it belongs: we all profit when we've a lively local economy. Available in £10 denominations,the vouchers can be spent with all businesses on the Chorlton Map right up until 31 December 2017. Get yours from the Celebration Party Shop; Epicerie Ludo, McQueen Independent,Love Lucy Boutique, Head over Heels,the Make It Shop, Unicorn or Elliots. Or you can buy online here.
Getting carried away
We're down to the last of our limited edition So Chorlton cotton bags. At just £2.99, they're a bargain handy foldaway. Every penny raised has, and will, go to maintaining Chorlton's flowers – the community garden by the library, beds by the Precinct, planters, herbs, boxes and bike racks. Help Chorlton grow – buy yours from Chorlton Art Market Hub, Elliotts, Chorlton Bookshop, Epicerie Ludo or online – but be quick!
Tag! cards are back
Small Business Saturday (3 December) sees the launch of the 2017 TAG! Cards – the little card that offers big local deals and discounts. For just £5, there's a year's worth of savings to be had – if you shop local, that is. Pick yours up wherever you see the logo or visit tagpassiton.com
Shop windows
If you're a trader with premises in Chorlton, grab your glitter, sprinkle a bit of sparkle in your windows and enter the Civic Society's Christmas shop window competition. Judging takes place in the week commencing 5 December. And if your favourite shop, bar or cafe isn't entering into the festive spirit with a wonderful window, have a word. Let's feel festive.