December: winners all round
It was a great start to December for the Traders, with Small Business Saturday and our annual Christmas Lights Switch On party on December 6.  The streets of Chorlton felt just a little bit safer that day too, when our home-grown crime-cracking superhero Dangermouse made a guest appearance to push the big button – even if he did use a scary-looking detonator to do it! Thanks to everyone who made the day so special. (And for helping us raise over £200 for Mad Dogs Homeless)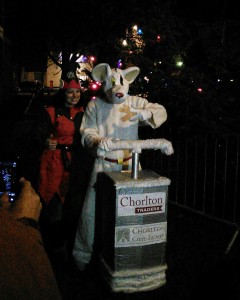 Our Christmas Raffle raised £1,135, which goes towards lighting up Chorlton at Christmas.  Big thanks are due to everyone who sold tickets, bought tickets or donated such fantastic prizes.  We'll do it all again next year!
Here are the lucky winners.
Chorlton Print by Anna Violet – Matthew Tomlinson
Silver piece from Wilbrahams – Omar Munir
Chain Saw Owl – Saj
£100 Chorlton Traders Vouchers – Rhona Gregory
£50 Chorlton Traders Vouchers – Colin Broadbent
A3 canvas photoshoot Andrew Wood Photography – Ann Wilson
A3 print B&B at Abbey Lodge – Carole (Chorlton Art Market)
Life/ Business Coaching sessions – David Radcliffe
Meal for Two at Croma – Emma Brundretts
box of 12 cup cakes from J&D Cupcake Co – Virginia
Unicorn Christmas Hamper – June Dake
Lloyds Meal for 2 – Mrs Buckley
Nip & Tipple meal for 2 with wine – Allison Cooper
Patchwork Papillion quilt – Cher Reid
Direct Advertising& Media Pi Voucher – Michaela Marc
Maine Rd Tickets & refreshments – Chris Heg
£25 voucher Post Box Café – Emma Topp
£20 Voucher Horse & Jockey – Alice Deville
Simon Dunn Chocolate Hamper – Dave Barter
Lushbrownies Voucher – Cath Rew
Set of Chorlton mugs & coasters – Lyn from Elliotts
Make It Shop crafty prize – Ellen Cotogni
Royal Exchange Theatre tickets – Tilly Kelly
Dangermouse Cutout from Crafts By Sian – Claire Murray
Here's to a brilliant 2015 – not only for our members, but for everyone who lives, works and loves in Chorlton.
Linsey Parkinson
www.chinupduck.com